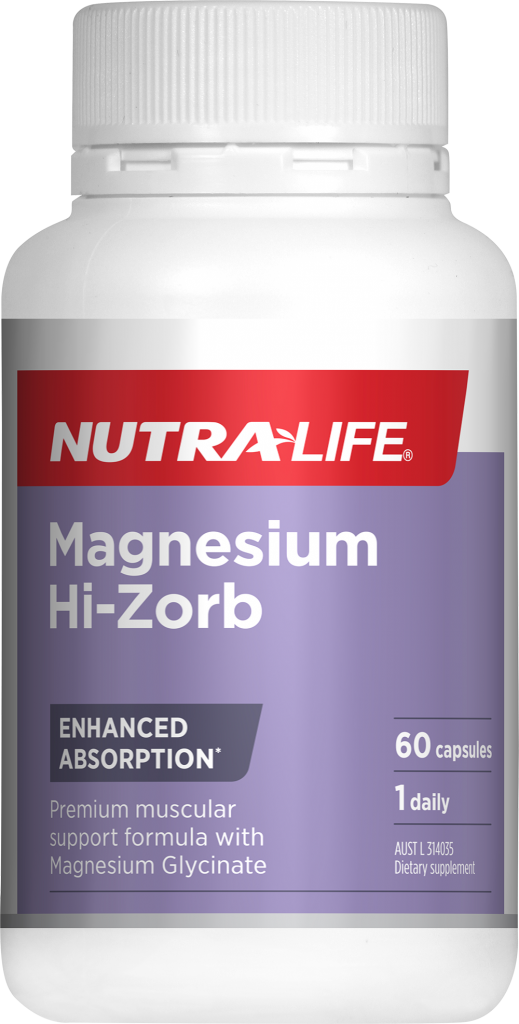 Magnesium Hi-Zorb
This premium muscular support formula combines Magnesium glycinate and Magnesium amino acid chelate in a vegan friendly format.
Available in 60 & 120 vege capsules
FEATURES
A premium muscular support formula with Magnesium glycinate and Magnesium amino acid chelate for higher absorption*
Taken as directed, Nutra-Life Magnesium Hi-Zorb can help in:
Supporting healthy muscle and nervous system function
Preventing dietary Magnesium deficiency
* when compared to Magnesium oxide
DOSAGE
Recommended adults and children over 14 years: Take 1 capsules daily.
Children 4-13 years: Take ½ capsule daily – separate capsule and mix contents with food or liquid. Or as directed
by your healthcare professional.  Not recommended for children under 4 years.
INGREDIENTS
Each vege capsule provides:
Magnesium glycinate 600mg
Equiv. Magnesium 67.3mg
Magnesium amino acid chelate 188.5mg
Equiv. Magnesium 37.7mg
Total Elemental Magnesium 105mg
Encapsulating aids.
FORMULATED WITHOUT
Gluten, wheat, animal products, dairy products, egg, soy, corn, artificial colours, artificial flavours, artificial sweeteners or preservatives.
Suitable for vegetarians and vegans.
CONTAINS:
Sulfites (<0.0014mg per daily dose – trace amounts, coming from the capsule).
PREGNANCY & BREASTFEEDING
Suitable during pregnancy and breastfeeding.
Always read the label and use only as directed.  If symptoms persist, consult your healthcare professional.
Mineral supplements should not replace a balanced diet.