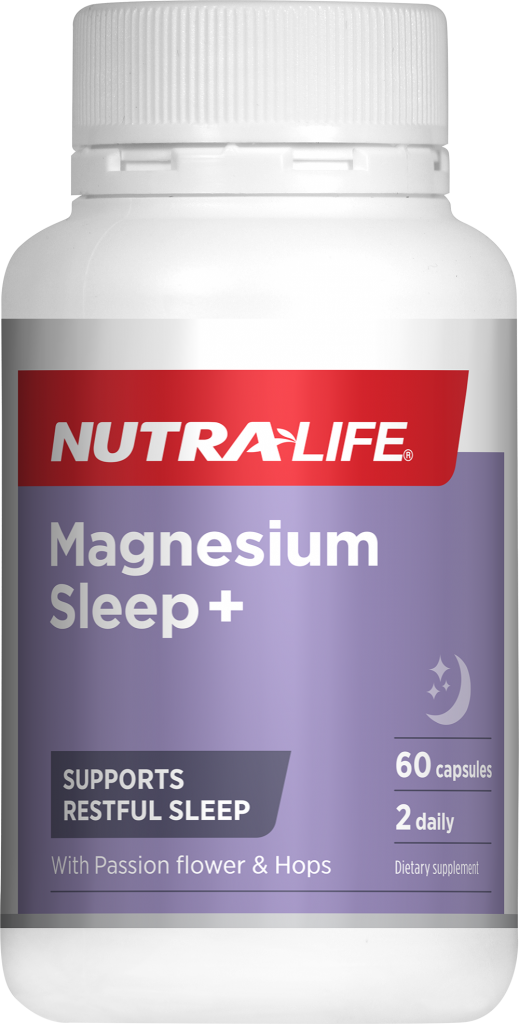 Magnesium Sleep+
A sleep support formula with a unique blend of organic, well absorbed Magnesium chelate with effective sleep supporting herbs for a restful night's sleep.
Available in 60 vege capsules
FEATURES
Nutra-Life Magnesium Sleep+ is a unique formula combining Magnesium amino acid chelate with sleep supporting herbal extracts: Passion flower, Lemon balm, Schisandra & Hops to support relaxation and healthy sleeping patterns.
Contains Magnesium amino chelate – a well absorbed, organic form of Magnesium for higher absorption*
Helps you to fall asleep, stay asleep and wake up feeling refreshed
Relaxes and eases muscle tension for a more restful night's sleep
Helps to combat stress symptoms to calm and relax the body
* when compared to Magnesium oxide
DOSAGE
Recommended Adult Dosage: Take 2 capsules daily, one hour before bedtime, or as directed by your healthcare professional
If symptoms persist, seek the advice of a healthcare professional.
INGREDIENTS
Each vege capsule provides:
Magnesium amino acid chelate 400mg
Equiv. Magnesium 80mg
Herbal extracts equiv. dry
Passiflora incarnata (Passion flower) herb 400mg
Melissa officinalis (Lemon balm) leaf 420mg
Schisandra chinensis fruit 750mg
Humulus lupulus (Hops) strobile 300mg
Encapsulating aids.
FORMULATED WITHOUT
Gluten, wheat, dairy products, animal products, egg, soy, artificial colours, artificial flavours, artificial sweeteners and preservatives.
Suitable for vegetarians and vegans.
PREGNANCY & BREASTFEEDING
Not suitable during pregnancy and breastfeeding.
Always read the label and use only as directed.  If symptoms persist, consult your healthcare professional.
Mineral supplements should not replace a balanced diet.