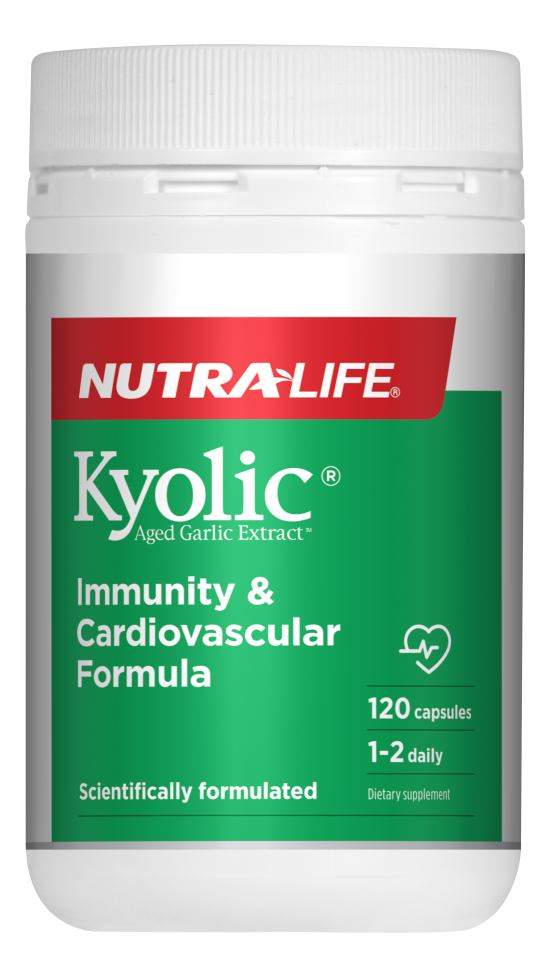 Kyolic® Aged Garlic Extract ™
This scientifically formulated, high potency formula is made with organically-grown garlic, which undergoes a proprietary aging process to eliminate garlic odour and provide antioxidant properties for powerful immune and cardiovascular support.
Available in 60 and 120 vege capsules
What is the difference between Kyolic® Aged Garlic Extract™ and standard garlic?
Kyolic Aged Garlic Extract uses only 100% organically grown garlic bulbs. They are aged to perfection in a unique extraction process for up to 20 months to eliminate odour and harsh compounds, making it gentle on sensitive stomachs with no garlic breath.  This unique process creates beneficial non-irritating compounds and increases the antioxidant activity found only in Kyolic®.
FEATURES
Scientifically formulated, this high potency formula provides important immune support by strengthening the body's natural immune defences for optimal health and wellbeing all year round.  It also provides cardiovascular support to those looking to support healthy cholesterol levels and normal healthy blood pressure.  Added Chromium and Vitamin B1 provide further cardiovascular support by supporting heart health, energy production and maintenance of health cholesterol levels.
Taken regularly, Nutra-Life Kyolic® Aged Garlic Extract™  can help support:
Optimal immunity
Healthy cholesterol levels
Normal healthy blood pressure
Cardiovascular and heart health
RECOMMENDED FOR
Kyolic® Aged Garlic Extract™ can help support all-year-round immunity and also assist in the maintenance of normal healthy blood pressure and cholesterol levels, as well as antioxidant support.
DOSAGE
Recommended Adult Dosage: Take 1-2 capsules daily with food or as directed by your healthcare professional.
INGREDIENTS
Each vege capsule provides:
Allium sativum (Garlic) bulb dry extract 252mg
Equiv. Allium sativum bulb fresh 756mg
Chromium (as picolinate) 8.75μg
Vitamin B1 (Thiamine hydrochloride) 300μg
Encapsulating aids
FORMULATED WITHOUT
Gluten, wheat, animal products, dairy products, egg, soy, corn, artificial colours, artificial flavours, artificial sweeteners or preservatives.
Suitable for vegans and vegetarians.
This product contains Chromium.  If taking medication for diabetes, consult your healthcare professional, as blood sugar levels could be altered when using this product.
PREGNANCY & BREASTFEEDING
Suitable during pregnancy and breastfeeding.
Always read the label and use only as directed.  If symptoms persist, consult your healthcare professional.
Vitamin & mineral supplements should not replace a balanced diet.