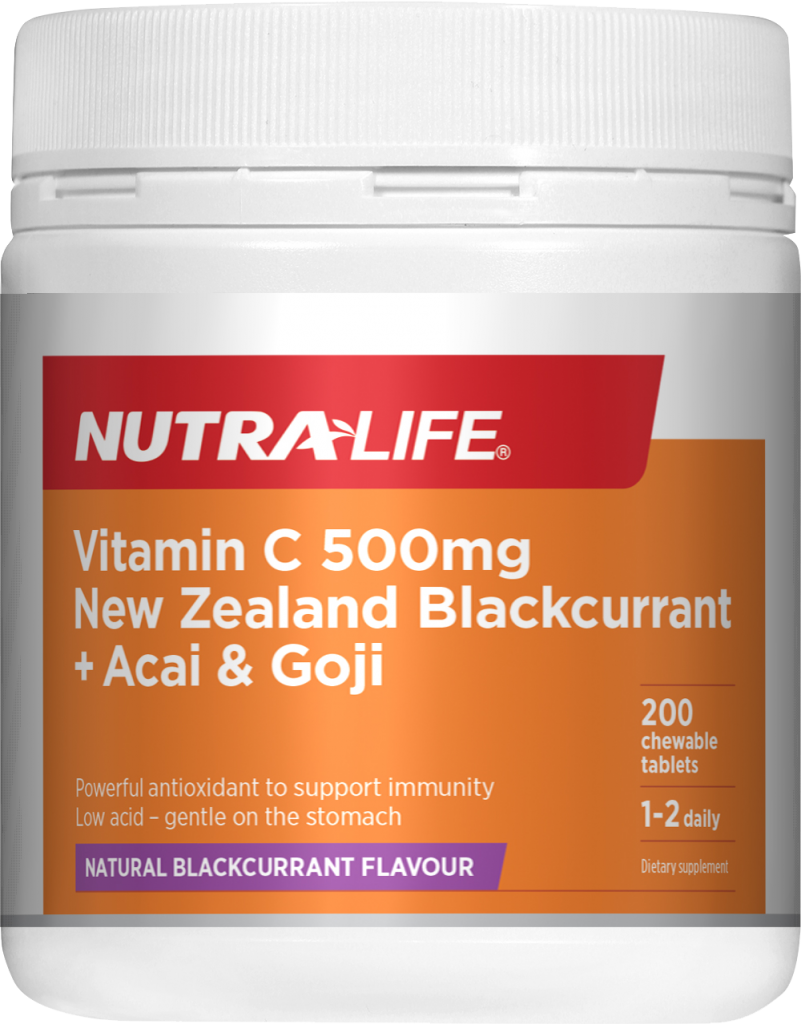 Vitamin C 500mg New Zealand Blackcurrant + Acai & Goji
Helps to maintain a healthy immune system. 500mg of Vitamin C with New Zealand Blackcurrant plus Acai and Goji. No artificial colours, flavours or sweeteners.
Available in 200 chewable tablets
FEATURES
This Vitamin C is a great-tasting, blackcurrant-flavoured chewable tablet that provides 500mg of Vitamin C per tablet to help maintain a healthy immune system. The Vitamin C is buffered which means that it is less acidic and kinder on the stomach. It also contains New Zealand Blackcurrant and Acai & Goji.
Immune support is especially important during winter, stressful periods, or any other times when the immune system is under pressure. More than just an immunity nutrient, Vitamin C provides powerful antioxidant protection against free radical damage. It assists in minor wound healing, and iron absorption.
Vitamin C helps to form collagen and maintain healthy gums and capillaries.
Recommended For:
Maintaining a healthy immune system
Supporting minor wound healing, skin and gum health
Providing antioxidant protection from free radicals
DOSAGE
ADULT: Chew 1-2 tablets daily, or as directed by your healthcare professional.
CHILDREN 3 YEARS+: Chew 1/2 – 1 tablet daily, or as directed by your healthcare professional.  Tablets may be chewed or sucked. Not to be used by children under 3 years of age without medical advice.
INGREDIENTS
Each chewable tablet provides
Vitamin C (Ascorbic acid) 262mg
Vitamin C (Sodium ascorbate) 238mg
Total Vitamin C 500mg
Ribes nigrum (Blackcurrant) fruit powder equiv. fresh 140mg
Euterpe oleracea (Acai) fruit powder equiv. fresh 100mg
Lycium barbarum (Goji) fruit powder equiv. fresh 108mg
Natural colour
Natural flavour
Natural sweeteners (glucose, stevia, liquorice root extract )
Tableting aids
FORMULATED WITHOUT
Gluten, wheat, animal products, dairy products, egg, soy, artificial colours, artificial flavours, artificial sweeteners or preservatives.
Suitable for vegetarians and vegans.
PREGNANCY & BREASTFEEDING
Suitable during pregnancy and breastfeeding.
Always read the label and use only as directed.  If symptoms persist, consult your healthcare professional.
Vitamin supplements should not replace a balanced diet.