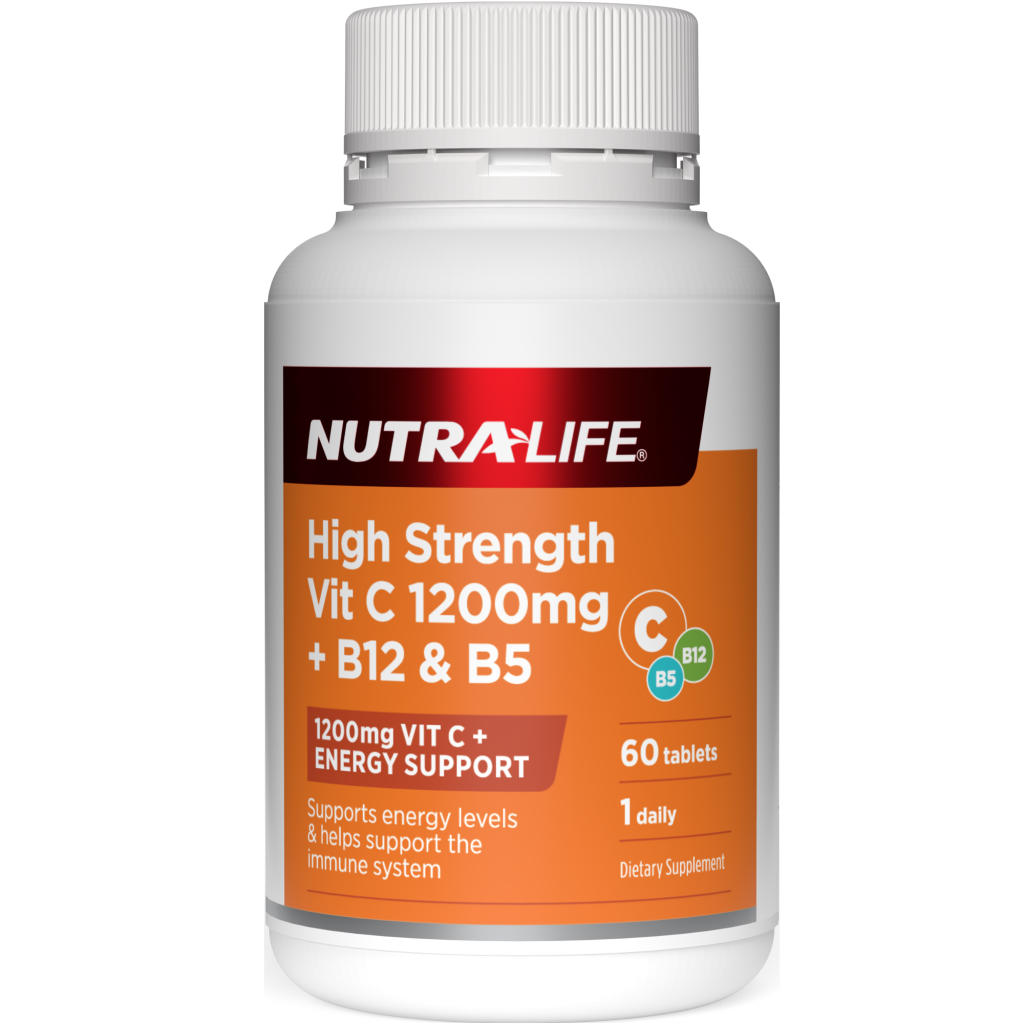 High Strength Vit C 1200mg + B12 & B5
A high strength formula providing a 1200mg dose of Vitamin C with Vitamin B12 & B5 to support energy levels and immune system health.
FEATURES
A high strength formula that combines a high strength 1200mg dose of Vitamin C with Vitamin B12 & Vitamin B5.  This high strength dose of Vitamin C helps support immune system health while Vitamin B12 & B5 support energy levels and energy production.  The Vitamin C is lower in acid which means it is more gentle on the stomach.
Immune support is especially important during winter, stressful periods, or any other times when the immune system is under pressure. More than just an immune nutrient, Vitamin C provides powerful antioxidant protection against free radical damage.
Vitamin C also helps to form collagen and maintain healthy gums and capillaries. It assists in minor wound healing, and iron absorption.
Recommended for:
Supporting energy levels and energy production
Maintaining a strong healthy immune system
Those wanting a high strength immune formula containing 3 key immune & energy nutrients in a 1-A-Day tablet
Supporting collagen formation, skin health and minor wound healing
DOSAGE
Recommended Adults Only Dosage: Take 1 tablet daily, or as directed by your healthcare professional.
INGREDIENTS
Each tablet provides:
Sodium ascorbate 600mg
Equiv. Vitamin C (Ascorbic acid) 533mg
Ascorbic acid (Vitamin C) 667mg
Total Vitamin C 1200mg
Vitamin B12 (Cyanocobalamin) 25μg
Calcium pantothenate 50mg
Equiv. Vitamin B5 (Pantothenic acid) 45.8mg
Tabletting aids.
FORMULATED WITHOUT
Gluten, wheat, animal products, dairy products, egg, soy, artificial flavours, artificial sweeteners or preservatives.
Suitable for vegetarians and vegans.
PREGNANCY & BREASTFEEDING
Suitable during pregnancy and breastfeeding.
Always read the label and use only as directed.  If symptoms persist, consult your healthcare professional.
Vitamin supplements should not replace a balanced diet.