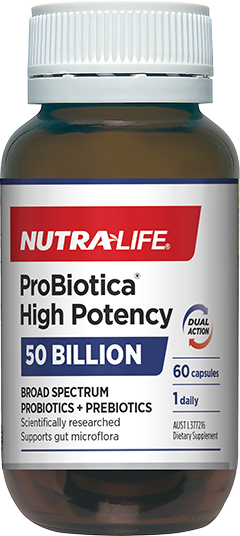 Probiotica High Potency 50 Billion
This broad spectrum probiotic + prebiotic formula offers a real solution for digestive and immune health. Made from 5 strains including the scientifically researched probiotic strain HOWARU® plus a prebiotic, this formula supports the gastro-intestinal tract and is shelf stable and does not require refrigeration.
Available in 30 and 60 vege capsules
FEATURES
Contains scientifically researched  probiotic strains including the HOWARU® strain.
HOWARU® is a scientifically researched probiotic strain that supports gastro-intestinal health. Added prebiotics help feed the good bacteria in your gut and works synergistically with probiotics.
Nutra-Life Probiotica High Potency 50 Billion may help:
Support the health and function of the gastro-intestinal tract during and after antibiotic use
Support immunity
Support upper respiratory tract health
Support urinary tract health
Healthy immune function of the newborn after birth when supplementation is taken during pregnancy and whilst breastfeeding
Support gut microflora and bowel health
DOSAGE
Recommended Adult Dosage: Take 1 capsule daily or as directed by your healthcare professional.  If symptoms persist, talk to your healthcare professional.
INGREDIENTS
Each vege capsule provides proprietary blend 50 billion CFU from:
Lactobacillus acidophilus (La-14)  32 billion CFU
Bifidobacterium animalis ssp.lactis (Bl-04) 5 billion CFU
HOWARU® Bifidobacterium animalis ssp. lactis (HN019) 5 billion CFU
Lactobacillus paracasei subsp. paracasei (Lpc-37) 5 billion CFU
Lactobacillus plantarum (Lp-115) 3 billion CFU
Acacia (Prebiotic) 150mg
Encapsulating aids.
FORMULATED WITHOUT
Gluten, wheat, animal products, dairy products, egg, soy, artificial colours, artificial flavours, artificial sweeteners or preservatives.
Suitable for vegans and vegetarians.
CONTAINS
Sulfites (<0.00096mg per capsule – trace amounts, coming from the capsule).
PREGNANCY & BREASTFEEDING
Suitable during pregnancy and breastfeeding.
Always read the label and use only as directed.  If symptoms persist consult your healthcare professional.