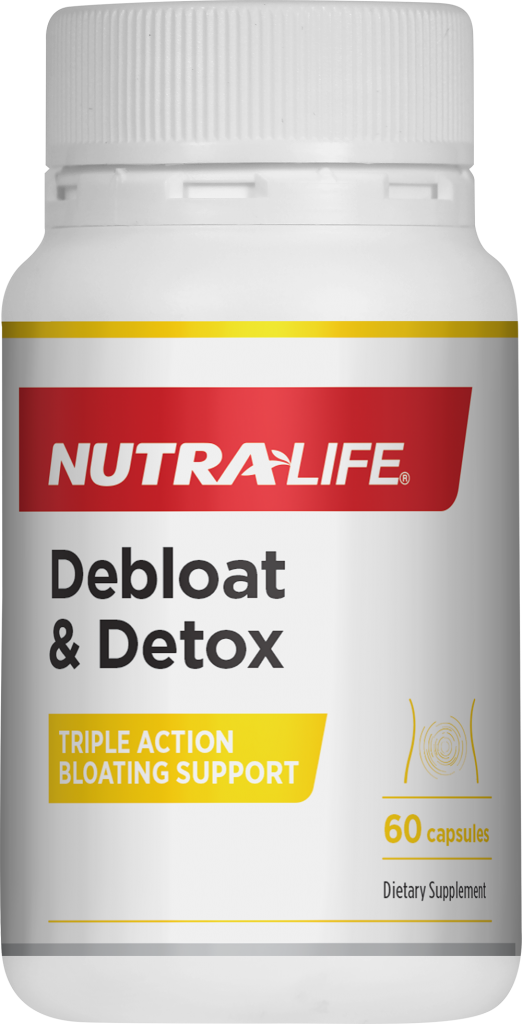 Debloat & Detox
Triple action formula that contains Fennel seed, Milk thistle & Digestive enzymes to support bloating and healthy liver function.
FEATURES
This triple action formula contains key ingredients to support digestive health.  Fennel seed to support healthy digestion and bloating; Milk thistle to support healthy liver function and natural liver detoxification and the Digestive enzyme – Papain to help with the proper breakdown of food.
Milk thistle is standardised to contain 210.6mg of Silymarin per capsule.
Taken as directed, Nutra-Life Debloat & Detox may help support:
Digestive symptoms such as bloating, abdominal discomfort, flatulence and indigestion
Natural liver detoxification processes
Healthy digestion and liver function
DOSAGE
Recommended Adult Dosage: Take 1 capsule twice daily with meals, or as directed by your healthcare professional.  If symptoms persist, talk to your healthcare professional.

Do not use if pregnant or likely to become pregnant.
Do not use while breastfeeding.
Not recommended for children under 12 years of age.
INGREDIENTS
Each gelatin capsule provides:
Silybum marianum (Milk thistle) fruit dry extract 390mg
Equiv. Silybum marianum fruit dry 27.3g
Standardised to contain Silymarin  210.6mg
Foeniculum vulgare (Fennel) seed dry extract 150mg
Equiv. Foeniculum vulgare seed dry 1.5g
Papain  65mg
Encapsulating aids.
FORMULATED WITHOUT
Gluten, wheat, dairy products, egg, soy, artificial colours, artificial flavours, artificial sweeteners or preservatives.
Contains: Animal product (gelatin capsule), sulfites (occurring in gelatin capsule).
Not suitable for vegetarians and vegans.
PREGNANCY & BREASTFEEDING
Not suitable during pregnancy and breastfeeding.
Always read the label and take only as directed.  If symptoms persist, consult your healthcare professional.