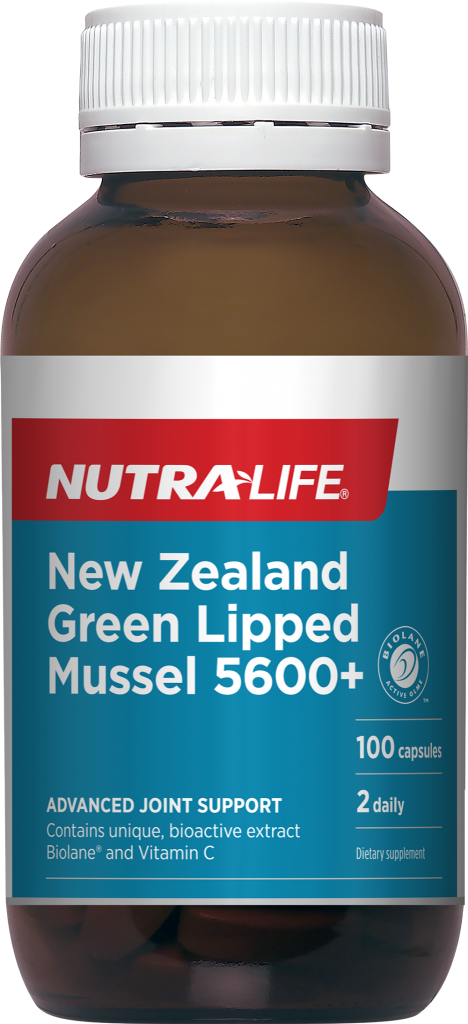 New Zealand Green Lipped Mussel 5600+
This product is made from New Zealand mussels grown and harvested sustainably and processed using a unique cold-extraction Biolane™ technique that retains the natural joint supporting compounds.
Available in 100 capsules
FEATURES
A high-strength natural joint support supplement made using only peak condition mussels grown in the coastal waters of New Zealand.  The mussels are harvested sustainably and processed using the unique Biolane® cold extraction technique.  Biolane® is the original Green Lipped Mussel Extract, and the one that has been extensively researched for nearly 30 years. This unique cold extraction process preserves the naturally-occurring, biologically-active compounds, including proteins, minerals and Omega 3 fatty acids.
Taken regularly, Nutra-Life New Zealand Green Lipped Mussel 5600+ may help to:
Support joint health, mobility and lubrication
Support joint cushioning
Provide joint-supporting nutrition for damaged joint cartilage
DOSAGE
Recommended Adult Dosage: For the first 3 months of use, take 2 capsules daily.  For an ongoing maintenance dose, take 1 capsule daily.  All doses to be taken with food. Or as directed by your healthcare professional.
INGREDIENTS
Each capsule provides
Green lipped mussel (Perna canaliculus) extract 850mg
Equiv. Green lipped mussel fresh 5600mg
Ascorbic acid (Vitamin C) 11.5mg
Encapsulating aids
FORMULATED WITHOUT
Gluten, wheat, dairy products, egg, soy, corn, artificial colours, artificial flavours, artificial sweeteners & preservatives.
PREGNANCY & BREASTFEEDING
Not suitable during pregnancy and breastfeeding.
CAUTIONS
DERIVED FROM SEAFOOD.
NOT SUITABLE FOR PEOPLE WITH GOUT.
Always read the label and use only as directed.  If symptoms persist, consult your healthcare professional.