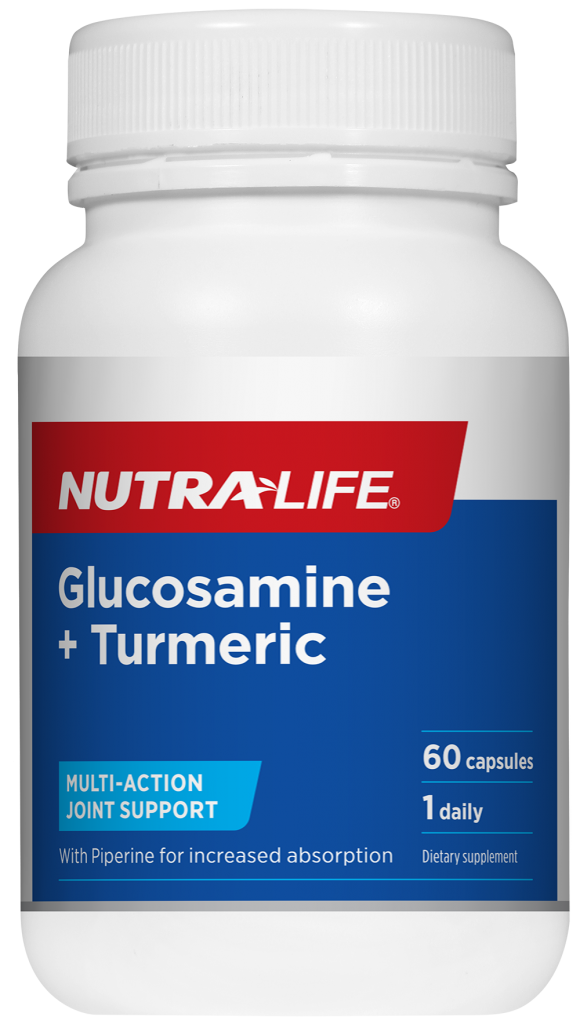 Glucosamine + Turmeric
Easy-to-swallow, research-based Glucosamine sulfate complex plus Turmeric to support joint health & mobility
FEATURES
Formulated with 3 key ingredients, this advanced multi-action formula provides comprehensive support for joint mobility and flexibility. Includes scientifically-researched Glucosamine sulfate complex, a key building block for tendons, ligaments, cartilage, collagen and synovial fluids in the joints; contains Curcuminoids (the active component of Turmeric) which acts as a powerful antioxidant and is traditionaly used in Ayurvedic Practice to support joint comfort; also contains Piperine (the active component of Black Pepper) which may increase the bioavailability of Turmeric for better absorption.
Taken regularly, Nutra-Life Joint Care Glucosamine + Turmeric may:
Nourish and feed the joints for joint lubrication
Support joint and cartilage strength and resilience
Help with swelling and joint discomfort
DOSAGE
Recommended Adult Dosage: Take 1 capsule daily with food, or as directed by your healthcare professional.
INGREDIENTS
Each capsule provides:
Glucosamine sulfate-potassium chloride complex 1500mg
Turmeric (Curcuma longa) rhizome extract. Equiv. dry 3000mg
Equiv. Curcuminoids 63mg
Black pepper (Piper nigrum) fruit extract Equiv. fresh 500mg
Equiv. Piperine 5mg
Encapsulating aids
FORMULATED WITHOUT
Gluten, wheat, dairy products, egg, soy, corn, artificial colours, artificial flavours or  artificial sweeteners.
DERIVED FROM SEAFOOD.
PREGNANCY & BREASTFEEDING
Not suitable during pregnancy and breastfeeding.
Always read the label and use only as directed.  If symptoms persist, consult your healthcare professional.