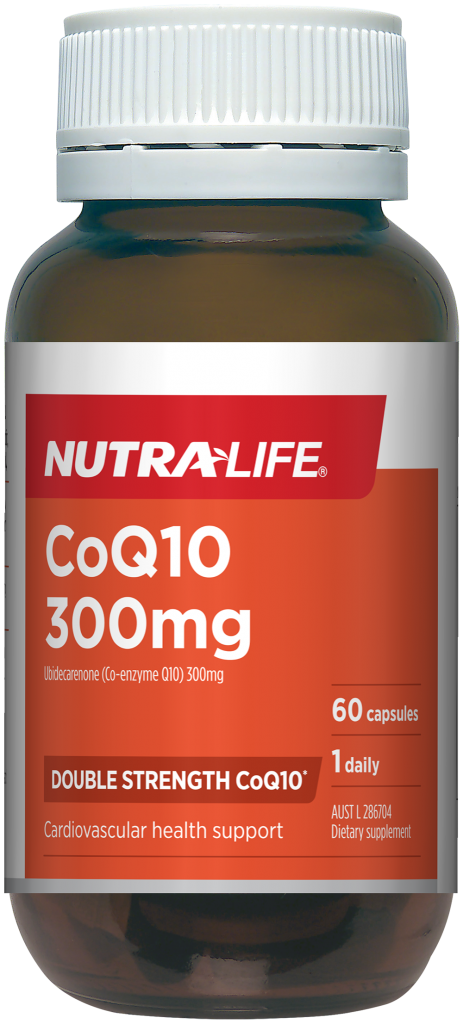 CoQ10 300mg
Easily absorbed, one-a-day heart health formula that supports the health of the heart, circulation and energy production. Each capsule offers 300mg of naturally fermented Co-Enzyme Q10. This product can also help maintain normal blood pressure and cholesterol levels in healthy people.
Available in 30 and 60 capsules
FEATURES
Each capsule provides a high strength, daily dose of 300mg Co-enzyme Q10. Studies show that CoQ10 can support cardiovascular health, cellular energy production in the body and healthy immune function.
When taken regularly, Nutra-Life CoQ10 300mg can help to:
Assist energy production in the body
Support cardiovascular health
Support healthy immune function
DOSAGE
Recommended Adult Dosage: Take 1 capsule daily with food or as directed by your healthcare professional.
INGREDIENTS
Each capsule provides
Ubidecarenone (Co-enzyme Q10) 300mg
Encapsulating aids
Colour
FORMULATED WITHOUT
Gluten, wheat, dairy products, egg, artificial flavours or artificial sweeteners.
PREGNANCY & BREASTFEEDING
Pregnancy – suitable in the 3rd trimester only.  Suitable during breastfeeding.
WARNING
Do not take while on Warfarin therapy without medical advice.
Always read the label and take only as directed.  If symptoms persist, consult your healthcare professional.