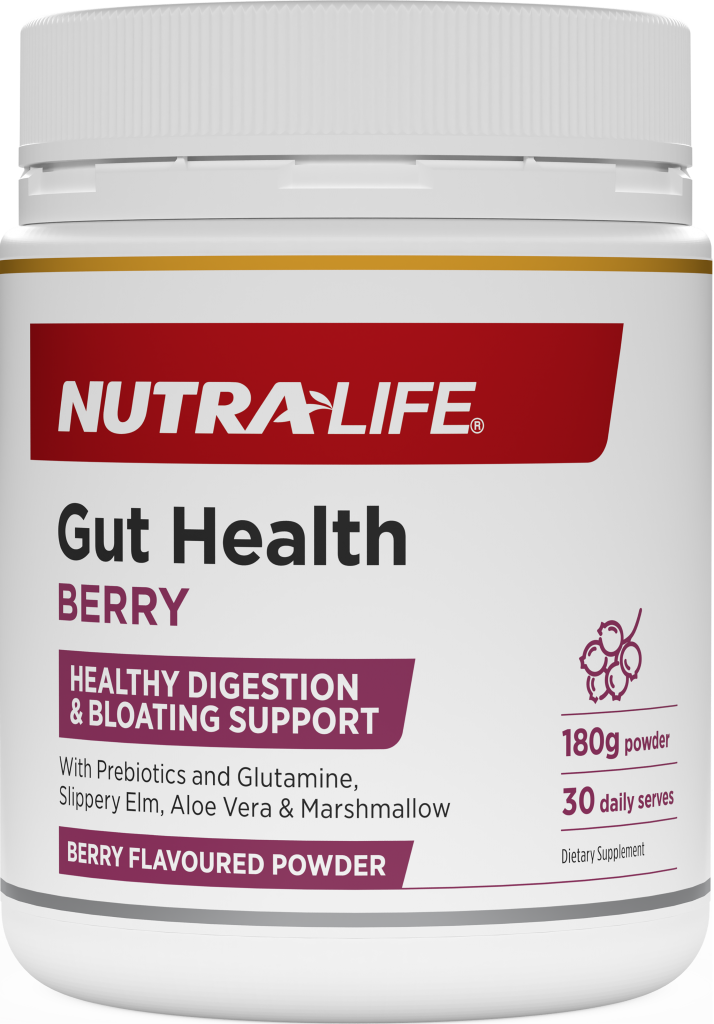 Gut Health - Berry
Digestive health and liver tonic in a single daily serve combining Prebiotics with Glutamine, Slippery Elm, Aloe Vera and Marshmallow to support healthy digestion and bloating.
FEATURES
This great tasting formula combines the Prebiotics Acacia and Pectin with Glutamine, Globe Artichoke and Slippery Elm to support gut lining integrity and bloating and to help maintain a healthy digestive function. It also contains Meriva®, a patented form of Curcumin.
Prebiotics stimulate the growth and activity of good bacteria in the colon.
Taken regularly, Nutra-Life Gut Health may help to:
Maintain a healthy digestive function including bloating and bowel irregularity, as well as support liver health
Assist with digestive discomfort and soothe the gut lining
Stimulate the growth of good bacteria in the colon and support bowel regularity and managing flatulence
DOSAGE
Recommended Adult Dosage: Take 1 level scoop (6g) once daily 30 minutes before a meal or twice daily for bloating support.  Dissolve in 150ml of  water or as recommended by your healthcare professional.  Stir until mixed. Drink plenty of water.
INGREDIENTS
Each level scoop of 6g provides:
Glutamine 2g
Ulmus rubra (Slippery Elm) stem bark powder 750mg
Pectin (Prebiotic) 600mg
Quercetin dihydrate 200mg
Acacia (Prebiotic) 1.2g
Meriva® Curcumin phospholipid complex 50mg
Equiv. Curcuminoids 10mg
Herbal extracts equiv.
Aloe vera leaf inner juice dry 10g
Cynara scolymus (Globe artichoke) leaf fresh 5g
Althaea officinalis (Marshmallow) root dry 1.06g
Mineral
Zinc (as gluconate) 7.5mg
Acidity regulators (sodium bicarbonate, malic acid, citric acid), Natural flavour (blackcurrant), Natural colour (beetroot juice), Natural sweetener (stevia)
FORMULATED WITHOUT
Gluten, wheat, animal products, dairy products, egg, artificial colours, artificial flavours or artificial sweeteners.
Suitable for vegans and vegetarians.
CONTAINS:
Due to turmeric input, product may appear orange in colour.
Soya bean products (tiny amount from Lecithin in the Curcumin phospholipid complex).
PREGNANCY & BREASTFEEDING
Not suitable during pregnancy and breastfeeding.
Always read the label and use only as directed.  If symptoms persist, consult your healthcare professional.
Mineral supplements should not replace a balanced diet.
Meriva® is a registered trademark of Indena S.p.A., Italy.