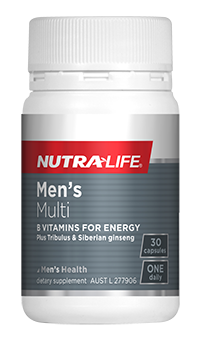 Men's Multi
Specially formulated for men with 19 daily nutrients including B Vitamins, Tribulus and Siberian ginseng. Nutra-Life Men's Multi supports male reproductive health, as well as energy production and performance.
Available in 30 and 90 capsules
FEATURES
Contains 19 daily nutrients.
Taken daily, Nutra-Life Men's Multi may:
Support energy production & performance
Support male reproductive health
DOSAGE
Recommended Adult Dosage: Take 1 capsule daily with food, or as directed by your healthcare professional.
INGREDIENTS
Each capsule provides:
Vitamins
Betacarotene 1mg
Thiamine (as nitrate) (Vit B1) 35mg
Riboflavin (Vit B2) 35mg
Nicotinamide 35mg
Pantothenic acid (as Calcium pantothenate) (Vit B5) 50mg
Pyridoxine (as hydrochloride) (Vit B6) 35mg
Folic acid 95µg
Cyanocobalamin (Vit. B12) 35µg
Biotin 50µg
Ascorbic acid (Vit. C) 50mg
Cholecalciferol (Vit. D3) 5µg
d-alpha Tocopheryl acid acetate (Vit. E) 20mg
Minerals 
Magnesium (as amino acid chelate) 10mg
Calcium (as hydrogen phosphate) 25.35mg
Zinc (as amino acid chelate) 10mg
Iodine (as potassium iodide) 150µg
Selenium (as Selenomethionine) 50µg
Herbal extracts equiv. dry
Tribulus terrestris fruit 2g
Eleutherococcus senticosus (Siberian ginseng) root 600mg
Encapsulating aids
FORMULATED WITHOUT
Gluten, wheat, dairy products, egg, artificial flavours, artificial colours, artificial sweeteners or preservatives.
Suitable for vegetarians.