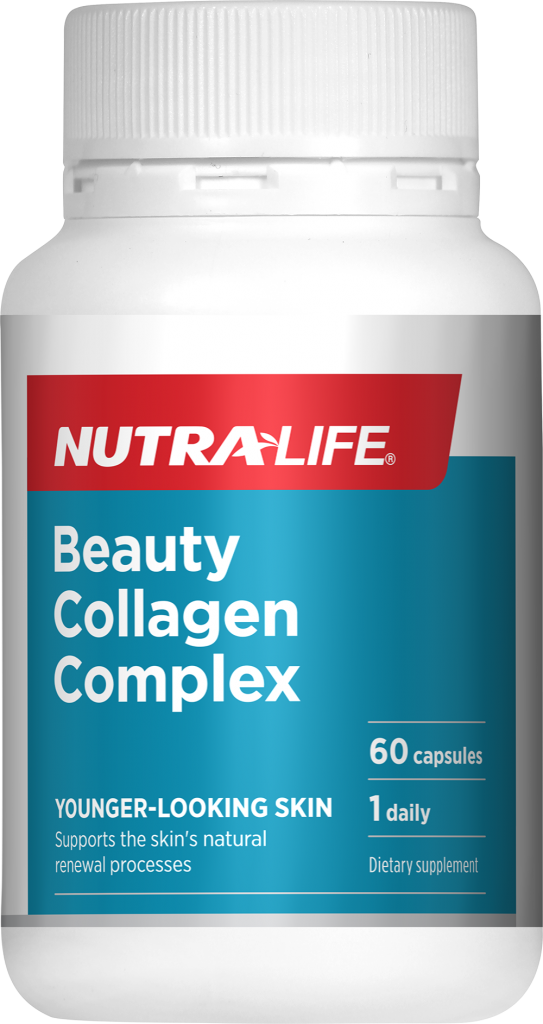 Beauty Collagen Complex
Powerful skin formula with New Zealand marine collagen 300mg plus antioxidants from New Zealand Grape seed, Kiwifruit & Blackcurrant.
Available in 60 Vege capsules
FEATURES
This advanced skin support formula combines pure New Zealand marine collagen with natural antioxidant-rich New Zealand Grape seed, Kiwifruit & Blackcurrant extracts.
Marine collagen provides important nutrients that support your skin's natural renewal process for smooth, young looking skin. The antioxidants in the New Zealand fruit extracts also help to shield skin cells against damage from free radical molecules.
When taken regularly Nutra-Life Beauty Collagen Complex:
Supports smooth young looking skin
Supports the skin's natural renewal process
Provides antioxidant support during ageing
DOSAGE
Recommended adult dosage: Take 1 capsule daily with food or as directed by your healthcare professional.
INGREDIENTS
Each vege capsule provides:
New Zealand Marine Collagen powder 300mg
Herbal extracts equiv. fresh
New Zealand Grape (Vitis vinifera) seed 3000mg
New Zealand Kiwifruit (Actinidia deliciosa) fruit skin 1000mg
New Zealand Blackcurrant (Ribes nigrum) seed & skin 3000mg
Encapsulating aids, flavours.
FORMULATED WITHOUT
Gluten, wheat, dairy products, egg, soy, artificial colours, artificial flavours or artificial sweeteners.
WARNING
Always read the label.  Use only as directed.  CONTAINS INGREDIENTS DERIVED FROM SEAFOOD.  Not recommended during pregnancy or breastfeeding.