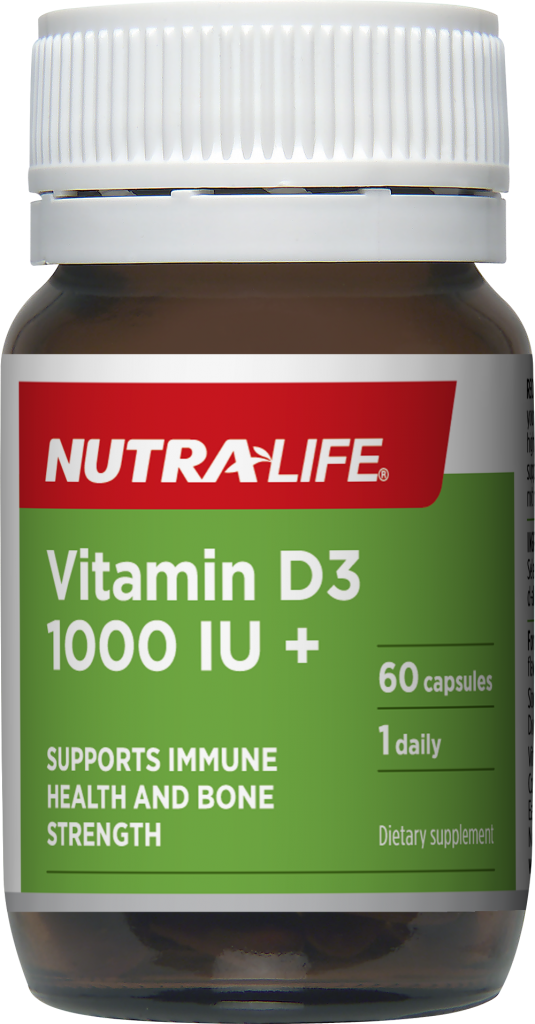 Vitamin D3 1000 IU +
This high-strength, one-a-day immune & bone health formula provides 1000 IU of Vitamin D3 (the active form of Vitamin D). This product helps support the maintenance of strong healthy bones, supports calcium absorption and supports a healthy immune system.
FEATURES
This powerful, one-a-day bone and immune system support formula blends a high-strength 1000 IU of Vitamin D3 (the active form of Vitamin D) with important antioxidants. Vitamin D helps calcium absorption and a diet deficient in calcium can lead to osteoporosis in later life.
When taken regularly, Nutra-Life Vitamin D3 1000 IU + can help:
Support a healthy immune system
Support the maintenance of strong, healthy bones
Support calcium absorption
DOSAGE
Recommended Adult Dosage: Take 1 capsule daily with food, or as directed by your healthcare professional.
INGREDIENTS
Each capsule provides
Vitamin D3 (Colecalciferol 25μg) 1000 IU
Selenium (as Selenomethionine) 50μg
Boron (as Borax) 1mg
Vitamin E (d-alpha-Tocopherol 33.6mg) 50 IU
Encapsulating aids
Colours
FORMULATED WITHOUT
Gluten, wheat, dairy products, egg, corn, artificial flavours, artificial sweeteners or preservatives.
This product contains selenium which is toxic in high doses.  A daily dose of 150 micrograms for adults of selenium from dietary supplements should not be exceeded.
PREGNANCY & BREASTFEEDING
Suitable during pregnancy and breastfeeding.
Always read the label and use only as directed.  If symptoms persist, consult your healthcare professional.
Vitamin & mineral supplements should not replace a balanced diet.