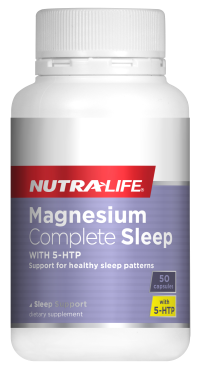 Magnesium Complete Sleep Formula
Combining specially selected herbal ingredients, this product helps promote sleep by helping you fall asleep and stay asleep so you can wake up feeling refreshed. It contains two sources of Magnesium together with Griffonia simplicifolia (naturally-occuring 5-HTP), Ziziphus and Passion flower.
Available in 50 and 90 capsules
FEATURES
Nutra-Life Magnesium Complete Sleep Formula combines 2 forms of Magnesium: Magnesium (as amino chelate) and Marine Magnesium (as hydroxide) with sleep supporting herbal extracts: Griffonia simplicifolia seed, Ziziphus jujuba and Passion flower to help promote sleep.
Griffonia simplicifolia contains naturally-occurring 5-HTP, which helps to form serotonin (mood hormone), which is a precursor of melatonin – your body's natural sleep hormone.
Magnesium is included to help support relaxation, including muscle relaxation.
DOSAGE
Recommended Adult Dosage: Take 2 capsules daily 1 hour before bed, or as directed by your healthcare professional.
Warning: Contains 5-HTP which should not be taken with antidepressants, prescription sleep medicine or Parkinsons' medication.
INGREDIENTS
Each capsule provides
Magnesium (as amino chelate) 25mg
Marine Magnesium (as hydroxide) 125mg
Total Magnesium 150mg
Herbal extracts equiv. dry: Griffonia simplicifolia seed 2.27g

Equiv. 5-Hydroxytryptophan (5-HTP) 75mg

Ziziphus jujuba (Jujube) seed 1g
Passiflora incarnata (Passion flower) herb 375mg
Encapsulating aids
FORMULATED WITHOUT
Gluten, dairy products, soy, egg, artificial colours, artificial flavours, artificial sweeteners or preservatives.
Always read the label, use only as directed. Mineral supplements should not replace a balanced diet.