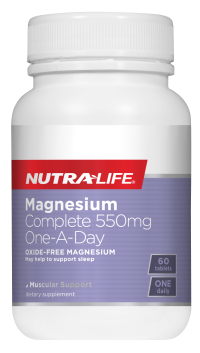 Magnesium Complete 550mg One-A-Day
This one-a-day, high-strength Magnesium formula helps with relaxation.
FEATURES
Effective, high-strength formula that provides 550mg of elemental Magnesium in single daily dose.
For customers who need a high potency Magnesium formula to assist sleep, heart health and muscle relaxation. The formula is contains 100% natural marine-sourced magnesium for easy absorption. When taken daily, Magnesium Complete 550mg One-A-Day helps to:
Assist with mental relaxation during nervous tension, stress and worry and supports restful sleep.
Maintain healthy heart function and helping the body with Calcium absorption, to support healthy bone density.
DOSAGE
Recommended Adult Dosage: Take 1 tablet daily with food, or as directed by your healthcare professional. Do not exceed the recommended daily dose. If symptoms persist, consult your healthcare professional.
This high potency formula may cause a laxative effect in some individuals. Those with kidney disease, consult your healthcare professional.
INGREDIENTS
Each tablet provides
Marine Magnesium 1570mg
Equiv. elemental Magnesium 550mg
Tabletting aids
FORMULATED WITHOUT
Gluten, wheat, animal products, dairy products, egg, soy, artificial colours, artificial flavours, artificial sweeteners or preservatives.
Always read the label. Use only as directed. Mineral supplements should not replace a balanced diet.