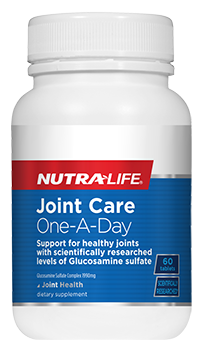 Joint Care One-A-Day
This high-potency, one-a-day formula delivers a powerful, scientifically researched dose of Glucosamine sulfate to help maintain healthy joints. Glucosamine is a natural building block of healthy joint cartilage, and supports the body's natural process of cartilage repair.
FEATURES
This easy-to-swallow, research-based Glucosamine sulfate complex (the most effective form of Glucosamine and the one that is internationally recommended) contains scientifically researched 1500mg dose of Glucosamine sulphate (1990mg Glucosamine sulphate complex), 33% more Glucosamine* vs other Glucosamine One-A-Day products. It is a convenient way to support joints for customers wanting a One-A-Day option for joint health & mobility. Taken regularly, Nutra-Life Joint Care One-A-Day can help to:
Maintain healthy joint cartilage and connective tissue
Support joint comfort, mobility and lubrication
Provide the body with the nutrients it needs to naturally rebuild damaged joint cartilage
DOSAGE
Recommended Adult Dosage: Take 1 tablet daily with food, or as directed by your healthcare professional.
INGREDIENTS
InIngredients: Each tablet provides
Glucosamine sulfate-potassium chloride complex 1990mg
Equiv. Glucosamine sulfate 1500mg
Equiv. Potassium chloride 490mg
Colour
Tabletting aids.
FORMULATED WITHOUT
Gluten, wheat, dairy products, egg, corn, artificial flavours, artificial sweeteners or preservatives.