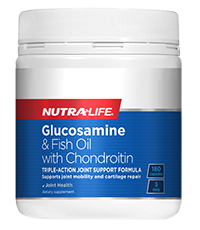 Glucosamine & Fish Oil with Chondroitin
Combines the joint-supporting benefits of scientifically researched Glucosamine sulfate, Chondroitin and sustainably sourced Omega 3 Fish Oil. Glucosamine and Chondroitin are natural building blocks of healthy joint cartilage. Omega 3 Fish Oil provides EPA and DHA: two essential fatty acids that our bodies use to form natural anti-inflammatory compounds. These compounds may help to maintain joint lubrication and mobility. Omega 3 oil may also support healthy circulation.
Available in 180 capsules
FEATURES
This convenient, triple-action joint support that combines Glucosamine and Fish Oil, with Chondroitin, in a single,easy-to-swallow soft gel capsule. The formula combines Glucosamine sulfate, with Omega 3-rich Fish Oil to help ease joint discomfort and assist with joint lubrication and includes Chondroitin – a natural building block for healthy joint cartilage. Taken regularly, Nutra-Life Joint Care can help to:
Support joint health, mobility and lubrication
Support natural cartilage repair and rebuilding
Provide nutrition for healthy joints
DOSAGE
Recommended Adult Dosage: Take 3 capsules daily with food. Some people may reduce this to 2 capsules daily after 3 months for a maintenance dose. Or as directed by your healthcare professional. If symptoms persist, consult your healthcare professional.
INGREDIENTS
Each capsule provides
Glucosamine sulfate-potassium chloride complex 663mg
Equiv. Glucosamine sulfate 500mg
Fish oil – natural 600mg
Equiv. Eicosapentaenoic acid (EPA) 108mg
Equiv. Docosahexaenoic acid (DHA) 72mg
Chondroitin sulfate – bovine 50mg
Colour
Encapsulating aids
Antioxidant.
FORMULATED WITHOUT
Gluten, wheat, dairy products, egg, corn, artificial flavours or artificial sweeteners.