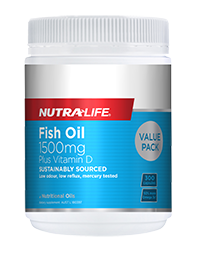 Fish Oil 1500mg
High-strength, fish oil to support joint health and maintain heart and brain health. Nutra-Life Fish Oil 1500mg is sustainably sourced, low odour, low reflux and mercury tested.
Available in 180 capsules
FEATURES
Our oil is sustainably and ethically sourced from populations of coldwater fish (e.g. anchovy, mackerel and sardine). It's high strength formula contains Omega 3-rich fish oil providing 50% more EPA and DHA Omega 3 essential fatty acids per capsule than standard 1000mg fish oil, offering the same effects with fewer capsules.
Your body uses these fatty acids to support joint health, plus heart, cardiovascular, brain and skin health.
The capsules are low odour, low reflux, and rigorously tested for mercury, heavy metals and pesticides to comply with strict international standards.
DOSAGE
Recommended Adult Dosage: For healthy joints, take 6 capsules daily. For skin health, take 6 capsules daily. For heart health and cholesterol level maintenance, take 2-4 capsules daily. For healthy brain and eye function, and general well-being, take 2-6 capsules daily.
All doses to be taken with food & a glass of cold water. Or take as directed by your healthcare professional.
INGREDIENTS
Each capsule provides
Fish oil – natural 1.5g
Equiv. Omega-3 marine triglycerides 450mg
Equiv. EPA (Eicosapentaenoic acid) 270mg
Equiv. DHA (Docosahexaenoic acid) 180mg
Encapsulating aids
Antioxidant
FORMULATED WITHOUT
Gluten, wheat, dairy products, egg, corn, artificial colours, artificial flavours or artificial sweeteners.